Fertility preservation and cancer treatment: Use of narratives to integrate multidisciplinary approaches in a single network
Posted by

Date

29 Giugno 2018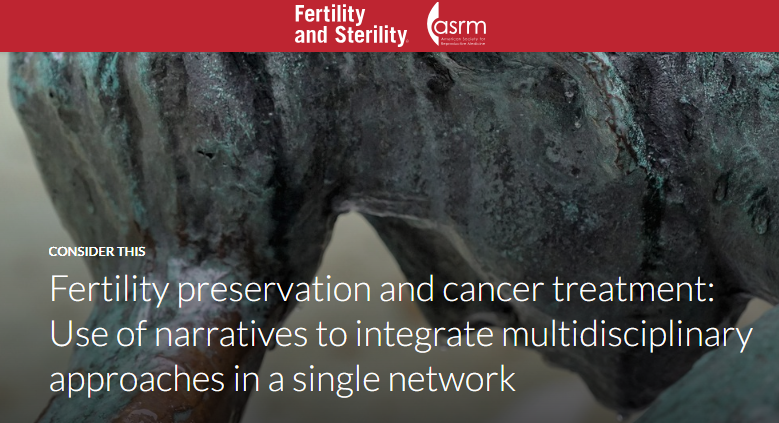 Una nuova pubblicazione di Fondazione ISTUD relativa al progetto PRESERVIAMO. 
Il progetto aveva lo scopo di studiare lo scenario italiano delle cure per la conservazione della fertilità rivolte alle donne con cancro. La ricerca ha valutato l'esperienza delle donne che hanno effettuato la crioconservazione degli ovociti prima di iniziare il trattamento del cancro, con l'obiettivo di individuare il valore e gli elementi critici del percorso di cura e rafforzare la rete multidisciplinare tra gli operatori sanitari. La ricerca si è articolata tra giugno e ottobre 2016 in una prima fase di raccolta di narrazioni e in una seconda fase di analisi dei contenuti.
L'articolo è stato pubblicato sulla rivista peer-reviewed Fertility and Sterility, con il titolo "Fertility preservation and cancer treatment: Use of narratives to integrate multidisciplinary approaches in a single network".
L'articolo è il risultato dell'importante contributo di Paola Chesi, ricercatrice dell'Area Sanità e Salute di Fondazione ISTUD e Project Manager del progetto, e ha avuto il sostegno e l'impegno di Alessandra Razzano, Paola Chesi, Marta Sestero, Francesca Salvagno, Alberto Revelli, Chiara Benedetto, in qualità di autori.
Objective:
To study the Italian scenario of the cares for fertility preservation addressed to women with cancer, this research evaluated the experience of women offered oocyte cryopreservation before starting cancer treatment, with the aim to individuate value and critical elements of the care pathway and strengthen the multidisciplinary network among health care practitioners.
Design:
The research was composed of a first phase of collection of narratives and a second phase for content analysis.
Setting:
The research was carried out in Italy between June and October 2016 and disseminated online.
Patients:
The collection of narratives was addressed to adult and reproductive-age women who pursued oocyte cryopreservation prior to cancer treatment, and health providers working in or collaborating with a fertility preservation service.
Interventions:
Semi-structured plots were used to collect narratives from patients and healthcare
practitioners about their experiences of the care pathway. The narratives were analysed using content analysis methods and compared between the two groups of respondents.
Main Outcome Measures:
58 narratives were collected, respectively 33 from women and 25 from healthcare practitioners.
Results:
Most patients revealed to have been well informed and supported by the multidisciplinary team of care (78%), and after the fertility preservation to have  faced the cancer treatment with a more positive attitude (89%). Healthcare practitioners confirmed the positive effects of oocyte cryopreservation on patients (65%), although the multidisciplinary network was rated as inadequate (65%).
Conclusions:
The best practices and the critical elements reported in the experiences of care suggest the need to structure a national multidisciplinary care pathway involving oncological teams of care. Using narratives to explore how patients and health providers proceed through fertility preservation and cancer treatment may help to integrate this multidisciplinary network.